How to set Marketing Campaigns in JivoChat
Included for free in plans
VIP
PRO
In this tutorial we will introduce you to the new feature "Marketing Campaigns". With this feature you will be able to set and schedule messages in the chat for the website channel.
With marketing campaigns you will be able to set a time, add a picture, text and prechat buttons to your pop up invitation for your website.
For example, during Christmas, you can configure a special promo using an image, text and buttons. You can set as many as you wish and you can prepare a year ahead of campaigns and promos using the same segment conditions.
Lets start!
In this tutorial you may find the following intructions:
Chat Campaigns
Just go to the new icon "Marketing" located to the upper left side of the web app or desktop.
In this menu you can click on "create" and select the type of campaign "Chat Campaign"
In this menu you will start to set up your campaign.
Select your website channel (this feature is only available for now for this type of channel only)
Add the name of your campaign so you can identify it later
Click on next
Now you will see the segmentation menu. In this menu you can segment your customers. Just use conditions as in triggers, keep in mind that you can segment per country, per time on website and page and many more.
Now you can choose your message design.
You can decide if you would like to add an image. If so, you can load one image from your pc.
You can select the position of the text to show it above or below your image. You can also add a title and the text
You can set up your prechat buttons (limited to 5 buttons)
Now you can click on next
Finally, you can see a preview from your campaign but you will also be able to set the time and date to send your campaign.
You can decide if you would like to start it inmediately and also configure it with no end date.
At the end you can either save it as a draft to continue later or you can click on "schedule". If you decide to launch it inmediately you will see the button "launch"
You are all set, in the main menu you will see your new campaign and the data that will start to be collected once your campaign goes live.
Additionally we have 2 options:
You can delete the campaign and start over
You can copy the campaign in case you only need to change a few things (this will save time for you when you have too many similar campaigns)
Popups Campaign
Take advantage of this great opportunity to interact with customers - pop-ups. It allows you to display any information to visitors in a pop-up window.

Depending on their type, windows come in several types:
Floating
Horizontal
Modal
Setting up pop-ups
In the Jivo app, go to the Marketing section, click the New button and select Pop-up. Select the channel to apply the window to and provide a name.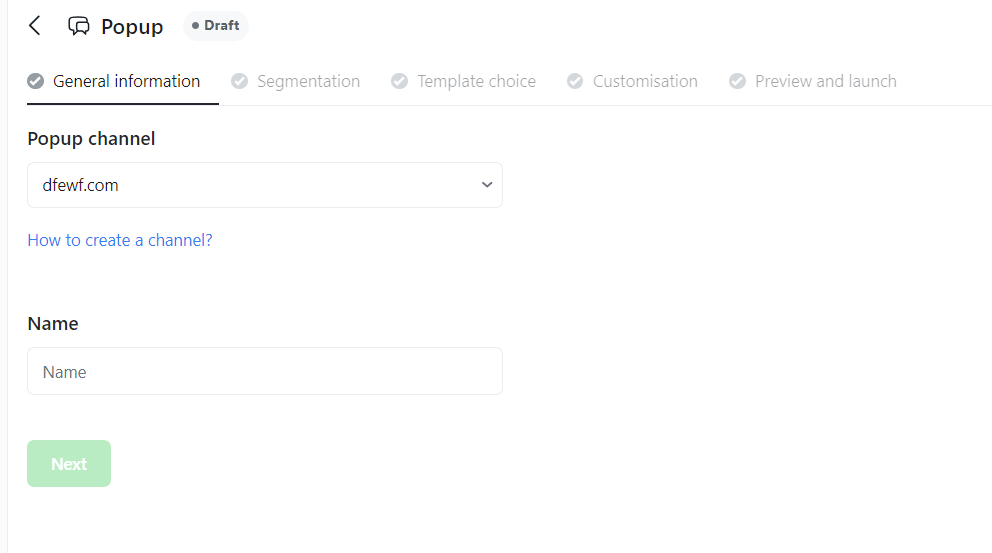 Form a segment of users to whom you want to show the pop-up window.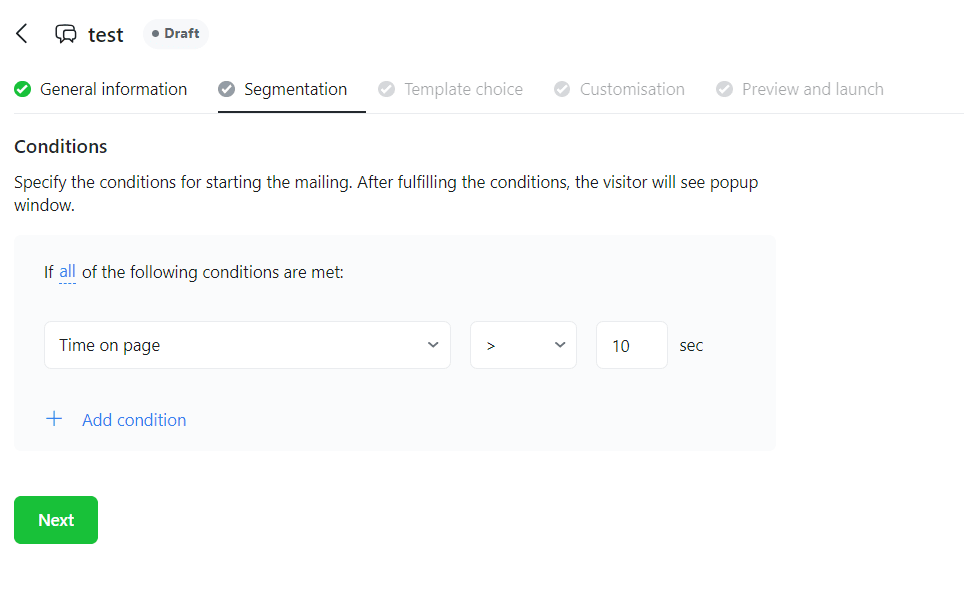 Select a window template.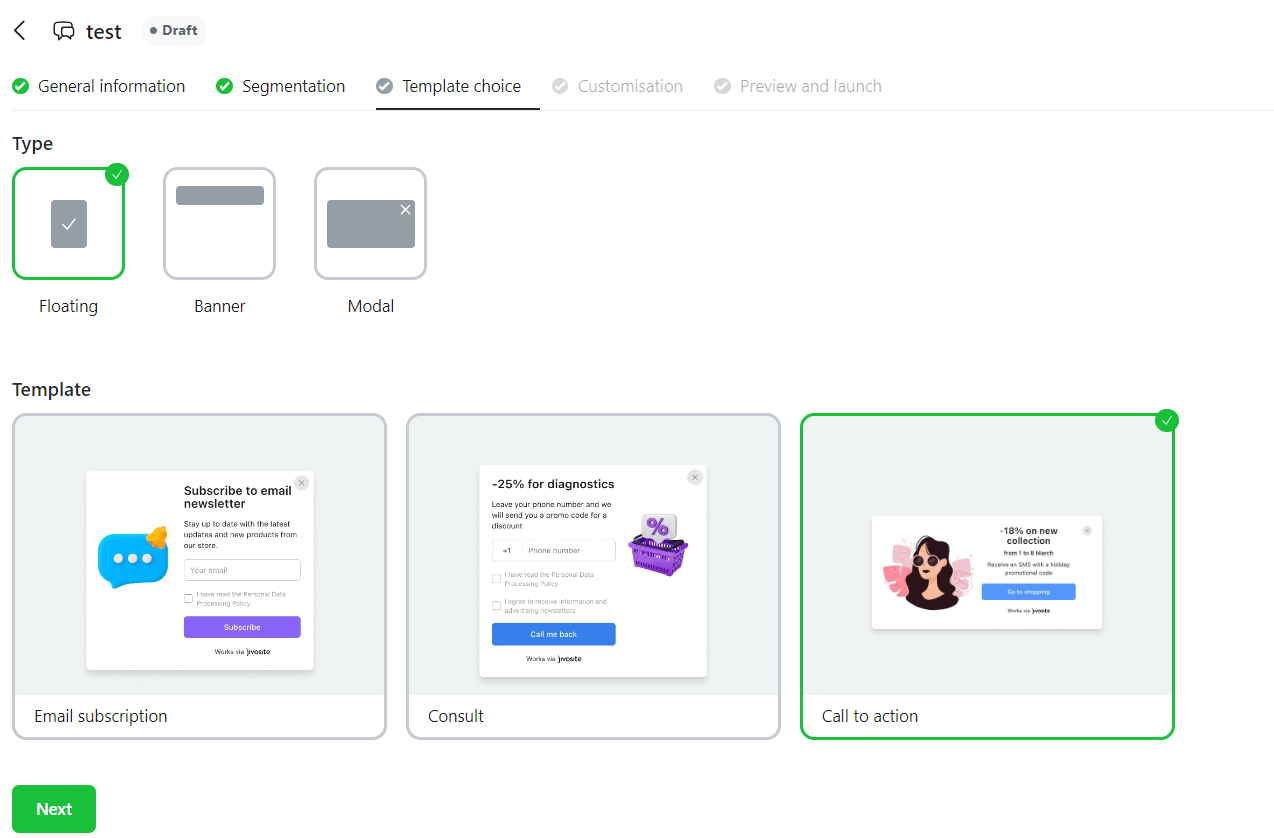 In the next step, customize the window location and appearance.
What else can be configured:
window style,
title, subtitle (optional),
main text,
button text.
If necessary, you can upload your own image. Its position can also be changed, or the image can be used as the window background.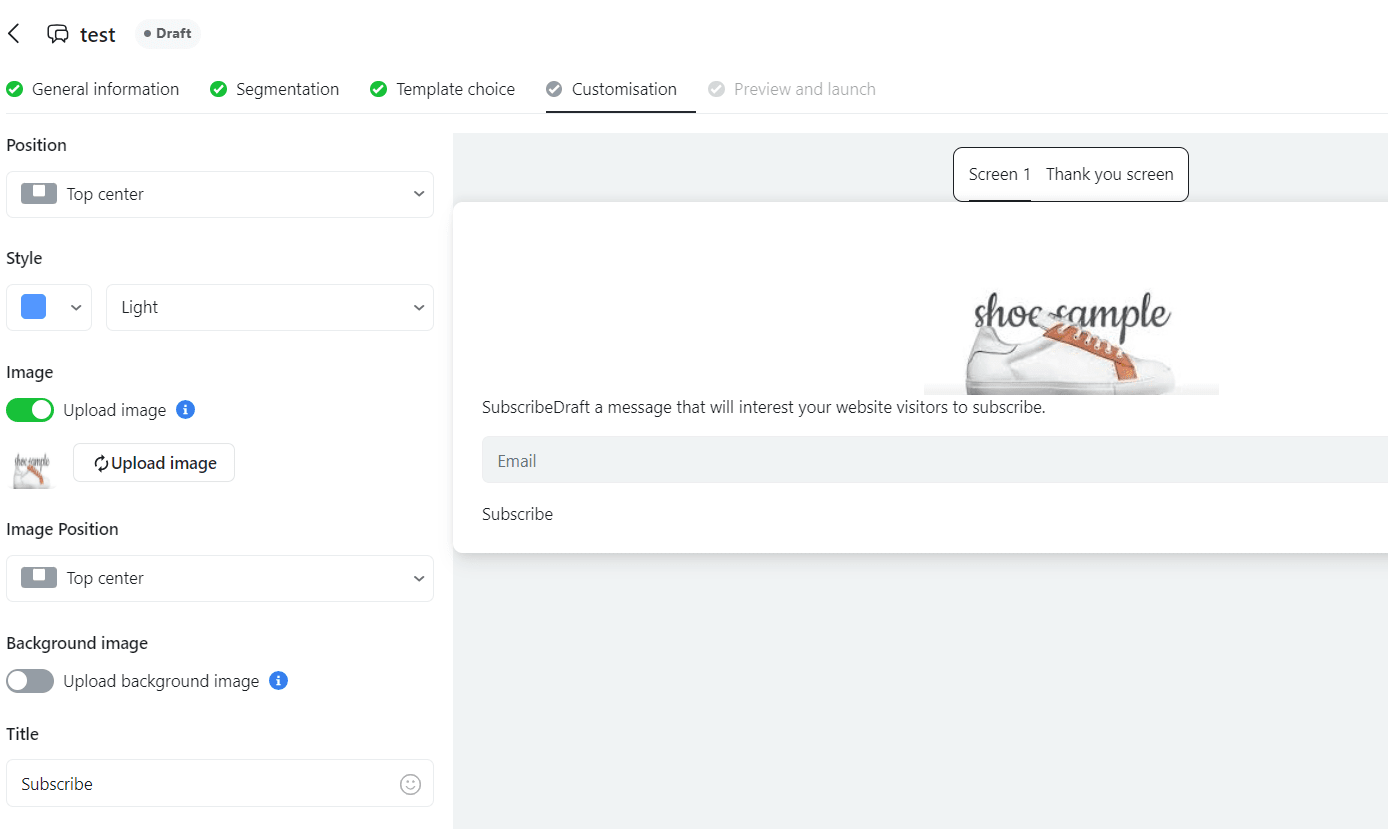 In the same section you can see how the window will look when viewing the site from a computer and from a mobile device. Please note: the settings for both versions will be the same.
Preparing for launch
Before launching, specify when the window will launch: right now or at a specified date and time. Select an end date for the window, or make it permanent. Ready!
Pause or end a window
If you need to hide an already running window from visitors, just go to the window settings by clicking on its name. Here, open the Statistics section and click Pause or Finish.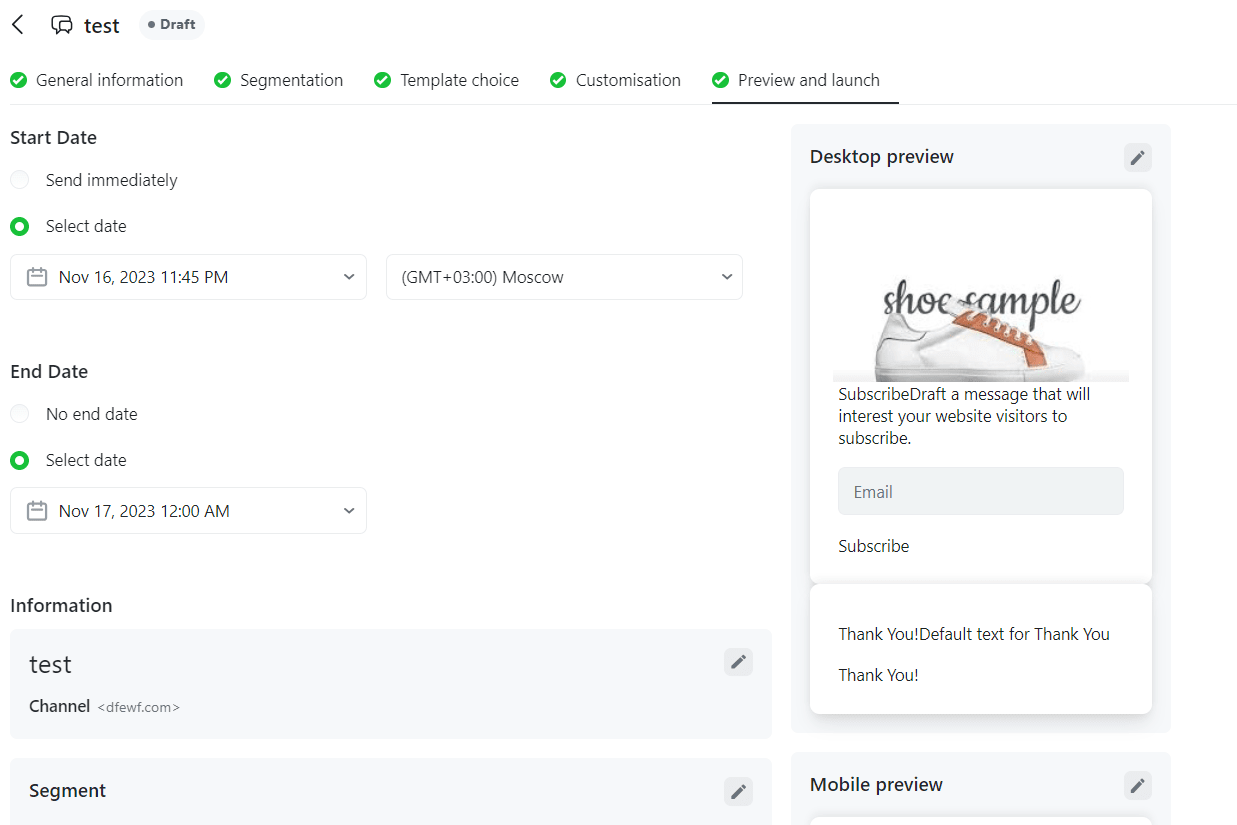 Statistics
To check statistics from your campaigns you will need to go to the marketing campaigns menu in which you will see all your campaigns. Please click on the name of the campaign your would like to check

In this menu now you will see statistics as a second option. Click on the button to check stats.
Here you will be able to check amount of clicks, shows and more.
That is all! I hope you can take advantage of this feature to promote your product or services.
Ask in the live chat, we are ready to help around the clock