How to change the notifications settings
Included for free in plans
VIP
PRO
BASE
If you want to change the notifications settings on your account, open the JivoChat web app or any of our Desktop apps and go to Manage -> Channels -> Settings (below the channel you want to customize):
Next, go to the "Notifications" menu:
Here you can change the following options:
1.E-mail for chat logs and notifications - This email address is where chat logs and other notifications (i.e. license expiration notification, news, and updates) will be delivered to.

2.Time zone - This time zone will be used to display times and dates in the control panel in the app and to calculate numbers in the report that is sent daily to your email.
3.E-mail for offline messages - This address will be used for the messages sent by visitors from your website when your agents are not available to chat (i.e. when they are offline or in away mode).

Please note that you may only specify up to 5 email addresses in each field.*
4.Our service can send daily reports to your e-mail used for receiving chat logs. In this report you will find daily statistics regarding chats and agents.

5.Activate chat logs to be sent by e-mail automatically after a chat is closed in the app.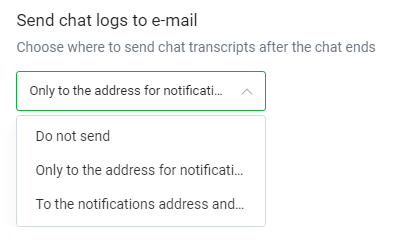 In this setting you can choose from 3 different variants:
Do not send - the chat logs will not be sent if you select this option. This is the default option.
Only to the address for notifications - the chat logs will be sent only to the address you've chosen to have notifications sent to.
To the notifications address and to the agent - if you select this option, the chat logs will be sent to the agent's email (who participated in the chat) and to the address for notifications.
6.If you are an account administrator and want to monitor your agents online presence, you can set up notifications to be sent to your email if the number of online agents is less than a specified number.
Please note that the "Away" status in the agent application counts as the agent being offline.
7.If you work with a ticket systems (i.e. helpdesk systems, CRM, etc.), we recommend that you enable the "Disable HTML in offline messages" option.

When this option is enabled, all offline messages will come in plain text, without graphical elements.
Ask in the live chat, we are ready to help around the clock