Included for free in plans
VIP
PRO
BASE
Do you want to login as an admin just to pay for a license, check a chat history or change some settings?

At JivoChat we are always thinking about new ways of helping our customers, that is why we created the admin mode. By using the admin mode, you are able to check all statistics and settings when all of your account licenses are already in use.
If your agents are not online and you are an admin of a JivoChat account, when you access a JivoChat app you'll automatically login under the Admin-Agent mode. In this mode, you occupy a JivoChat license so if your agent needs to login and you are using the license, they won't be able to do so until you logout from the app. Please logout, wait for your agent(s) to login and then re-login to enter the admin mode.
When you log in the admin mode, you will see the following message: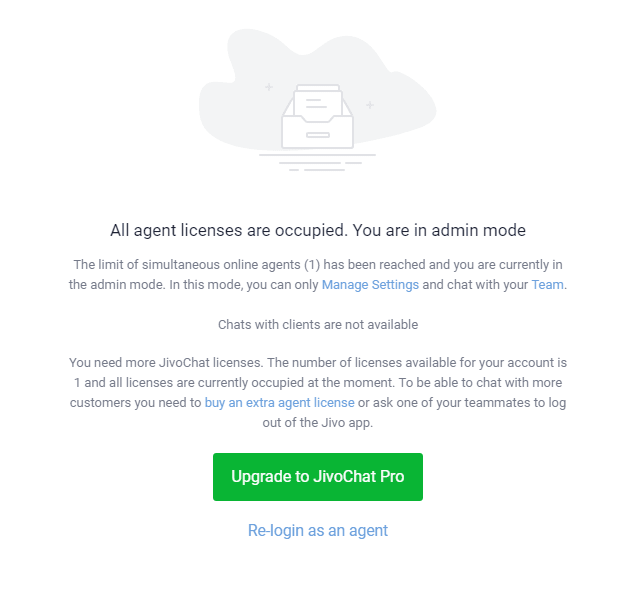 This message will be shown in the "My Chats" and "Visitors" tab. Keep in mind that you are able to use all features besides the ones related to online client assistance.
If you wish to buy an additional Pro license for your account so you can see visitors and receive chats, please contact us in chat or at info@jivochat.com. We are online 24/7 to help you.
That is all! We wish you a fantastic day!
Ask in the live chat, we are ready to help around the clock